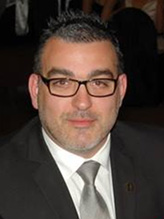 Phillip de Pinto Co-founder & Chair
Phillip is a Director of Universal Motor Auctions, Adelaide's longest and leading motor vehicle auction House. Phillip has been auctioning motor vehicles for the last 18 years, having being taught by his father Mario, and a 45 year veteran of the motor industry in South Australia.
In addition to running and managing Universal Motor Auctions with his brother Peter, Phillip is also on the Board of the Treetop Specific School for Autistic Children. The Board comprises a committed group of passionate parents working on establishing an Autistic school in Adelaide, to be the first of its kind in the State and to put South Australia in line with all the other states.
Phillip, who is married and with two beautiful children, Angelina & Mario, is a strong and caring individual who believes in the mantra of "helping others", in particular, children and their families who live and struggle with impairments. His belief, as a father, is to set an example for children to follow as they get older, so they are strong enough to help others in need.
He is a Founding Member of the Living Without Limits Foundation and is extremely passionate about raising much needed funds and awareness for this important charity.
Phillip is personally dedicated to supporting children that are affected by Autism.
Phillip's message to everyone is simple – "help us to assist all those in need of support".