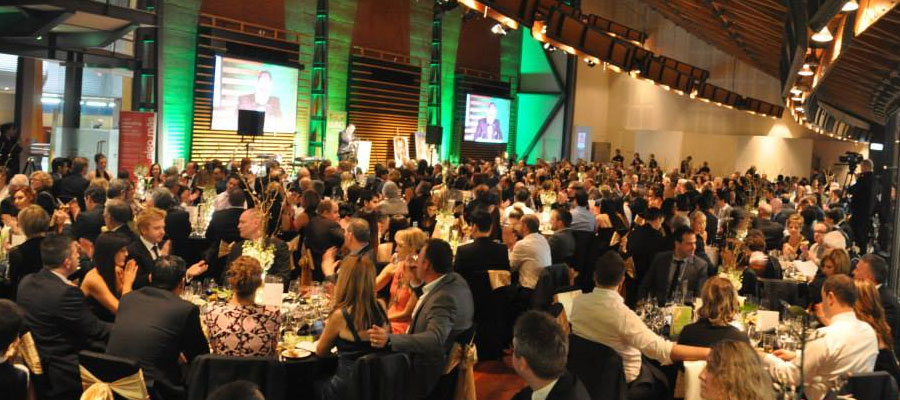 Living Without Limits Gala Dinner Spectacular
10 August 2013
Saturday night, the 10th of August, 350 people celebrated the official launch of The Living Without Limits Foundation at the National Wine Centre of Australia.
Upon arrival, guests were treated to pre-dinner drinks and delicious canapés and were entertained by local smooth crooner Heath Gambarotoo.
MC Belinda Heggen was outstanding in her role and ensured the night all went according to plan. The Foundation was launch by State Liberal Leader, Steven Marshall MP, who praised the efforts of the individuals behind the Foundation for their great vision and benevolence. Guests heard moving speeches from Chairman Phillip de Pinto and Vice Chairman Steve Maras and other heartfelt addresses followed – Jason Valentine from the Board of Treetop Special School for Autistic Children, Eszter Agocs of Future Footprints Conductive Education, and Antigoni and Olga Tavlaridis, two young sister who spoke about their lifelong struggle with Juvenile Diabetes.
Special videos relating to the impact of Autism and Cerebral Palsy were plated and certainly had the crowd well and truly captured.
Local band Lucifers Lounge entertained the packed house but the real star of the night was Mark Anthony, one of the world's best Elvis impersonators. Adelaide-born Anthony made a special trip back home from Nashville, Tennessee, to perform at the event. He stunned all those in attendance with his Elvis classics and had everyone singing along and dancing in their seats!
One of the highlights of the night was the spectacular main auction conducted by Phillip de Pinto. Bidding was frenetic, with guests trying feverishly to outbid one another. At the night's close, Mr de Pinto proudly announced that an astounding $86,000 had been raised on the night, way above the Foundation's initial expectations.
The Living Without Limits Foundation has several more fundraising projects in the pipeline and are looking forward to announcing these shortly.. stay tuned!