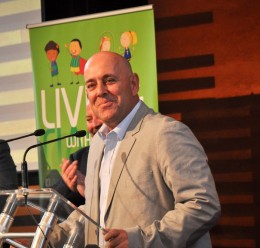 darren lehmann FOUNDATION AMBASSADOR
Darren, affectionately known as "Boof", is considered one of South Australia's best ever cricketers.
At the ripe old age of 32, Darren was finally given his chance to establish a regular place in the Australian Test team, replacing Mark Waugh after his retirement.  Darren grabbed the opportunity with both hands and produced some superb innings.  For years leading up to this, Darren scored heavily for his state team and in England for club Yorkshire.
From the time he burst onto the scene at the tender age of 17, Darren amassed a huge amount of runs but was only ever rewarded by the national selectors with a One-Day international place.  Darren was also a useful slow left-arm bowler with a knack of picking up important wickets.  He was a powerful attacking batter and loved to dispatch the ball to all corners of the ground.
Darren had the honour of hitting the winning runs in the 1999 World Cup final against Pakistan and then, in the 2003 World Cup final against India, he took the catch which saw the end of India and sealed victory for Australia.
Since his retirement, Darren has been busy with his numerous roles with Lion Nathan as a XXXX Gold Ambassador, as an Ambassador for the Fielders Group, as Head Coach at the Darren Lehmann Cricket Academy and in charge of the Deccan Chargers in the Indian Premier League.  In his first year in charge, he took the Chargers from bottom to top – winning the 2009 IPL in South Africa.  Success continued in the 2010 IPL with Darren guiding Deccan to the Semi Finals.
Darren was appointed Head Coach of the Australian Cricket team just prior to the 2013 Ashes Series in England.  He was appointed to this role after successfully taking the Queensland Bulls and Brisbane Heat to titles in all formats over a period of 3 years.  He has brought the same attitude to the Australian Team as he did his own cricket – to play hard, respect the game and your opponents, but most importantly, enjoy the contest.
Key Points – Darren's Cricket Career:
Best known as the stocky-built Australian batsman, capable of dominating across all forms of the game.
Played in 117 One Day Internationals for Australia, including 19 World Cup appearances.
Finished his career with a substantial Test Match batting average of 44.9 and a One Day average of 38.96.
Wisden Cricketer of the Year 2001
Named Wisden Australian Cricketer of the Year 2004-05.
In May 2016, Darren was inducted as Living Without Limits' inaugural and official Foundation Ambassador, a role he is very proud of.